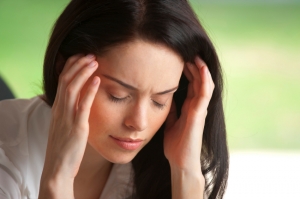 Since 1981, the Center for Cosmetic Dentistry has helped patients from Rochester, Webster and Fairport alleviate their TMJ symptoms. The most commonly reported symptom of TMJ is an intense, recurring headache.
According to the Migraine Research Foundation, migraine sufferers inhabit nearly 25 percent of U.S. households. These crushing headache attacks typically last anywhere from several hours to multiple days, and are occasionally accompanied by vomiting or severe sensitivity to light and noise. Other common TMJ symptoms include:
Earaches
Face and jaw pain
Jaw locking
Biting or chewing difficulty
Neck and shoulder pain
Jaw popping or clicking
Our experienced family dentists, Dr. Sussman and Dr. Pogal, offer several TMJ treatment options, and will work with you to determine the best approach to suit your unique situation. Depending on your specific needs, treatment could include:
Mouthguard: A ready-made plastic guard usually worn on the upper teeth while you sleep to prevent nighttime teeth grinding.
Custom Orthotic Device: Similar to a mouth guard, but custom designed to shift your lower jaw and properly align your bite.
TENS Unit: A device that discharges small electrical currents which relax your jaw muscles and reduce pain.
Orthodontics: The use of braces, retainers or other treatments to correct teeth and bite alignment.
Full Mouth Reconstruction: Comprehensive oral treatment which can include bridges, crowns, implants and more.
If you live in Rochester, Webster or Fairport and suffer from common TMJ symptoms, call 585-227-4390 or complete the form on this page to schedule an appointment. The Center for Cosmetic Dentistry welcomes patients from Greece and nearby areas of New York.