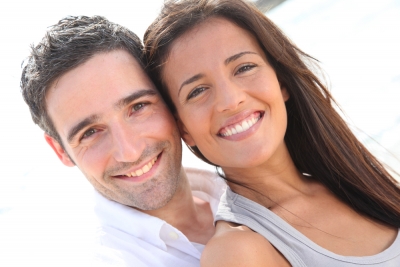 A smile comes in many shapes, sometimes straight, sometimes crooked, sometimes with overcrowding or gaps. Many adults choose to hide their smile rather than correct it. There's no reason to go on ashamed of your teeth, when an orthodontist can easily correct the problem in less time and with less money than you think. There are more options than just metal braces, and in as little as a few months you could be smiling wider than ever. Here are 5 reasons to consider adult orthodontics if you are unhappy with your smile:
1) Flexible options. Adults have more options than children when it comes to braces. You don't necessarily have to have a mouth full of metal to straighten your teeth anymore. Invisalign has been revolutionizing the world of orthodontics for nearly 20 years. This translucent form of braces involves aligners that are switched out over time to gradually shift your teeth into proper alignment. Invisalign can be used to correct minor and major overcrowding and gaps. They are easy to care for, and you can still eat whatever you'd like. 
2) Requires less time.  Many adults are afraid that they will have to wear braces for up to two years, and that it will severely impact their quality of life. The time required can be as little as three months for aesthetic issues. In less than a year you could have the smile you've always wanted. Of course, your treatment time could be longer. The only way to know for sure is to visit our dentists for a consult.
3) Your health. Seeing an orthodontist is about more than the way your teeth look, it's about paying attention to tooth decay, tooth placement, and the condition of your gums. If you don't address the problem, you could put your teeth and gums in trouble years from now.
4) Financing. The cost of braces has gone down, but can still be quite high depending on the extent of your dental needs. Invisalign or metal braces start at about $3,500 and go up from there. With financing and payment options, we can help you find a way to pay for orthodontics that meets your financial needs.
5) Build your confidence. You've been shying away from showing off your teeth for too long. With straighter teeth you will stop being self-conscious and have the confidence to show off your new smile at work and at home.
Stop putting off getting braces. There's no need to wait when you have so many options. If you're looking for an orthodontist in the Rochester area, contact Dr. Sussman and Dr. Pogal at 585-227-4390 to schedule your free consultation. We have been serving patients in Upstate New York for nearly 35 years.