Getting your appearance just right can be challenging, especially when a focal point like your smile suffers from some kind of blemish. Rochester cosmetic dentists Dr. Paul Sussman and Dr. Meredith Pogal have the experience and dedication to help you transform your smile in a way that magnifies the beauty of your face.
Please call 585-227-4390 today to schedule a free consultation with our cosmetic dentists. Dr. Sussman and Dr. Pogal welcome patients throughout Upstate New York to our office in Rochester.
Our Cosmetic Dentistry Services
The exact treatment that will enhance your smile will depend on what you'd like to change about the appearance of your teeth. During your free consultation, we can discuss the suitability of the following cosmetic dentistry procedures:
Porcelain crowns
Tooth-colored fillings
Dental bonding
If our dentists determine that you might benefit from more than one cosmetic procedure, Dr. Sussman and Dr. Pogal can also discuss the suitability of a smile makeover. A smile makeover consists of a series of treatments designed to correct multiple issues affecting the way your teeth look.
Benefits of Cosmetic Dentistry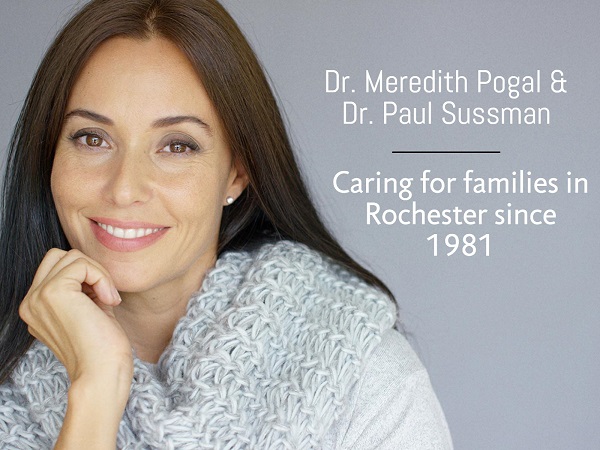 The primary goal of cosmetic dentistry is to make your smile look its best. However, for some patients an aesthetic treatment can be much more meaningful than just removing stains or making the teeth look more even.
Other advantages of cosmetic dentistry many of our Rochester patients enjoy include:
Better self-confidence
Improved health and function of the mouth through smooth chewing surfaces and even spacing between teeth
Easier social and professional interactions
Some patients have been hiding their smiles for years because they're ashamed of the way they look. Our dentists have extensive experience with a wide variety of cosmetic and reconstructive procedures, and we will work with you closely to understand your needs and develop individual treatment options to help you achieve an improved smile.
To schedule your free consultation with our Rochester cosmetic dentists, please contact the office of Dr. Paul Sussman and Dr. Meredith Pogal or call 585-227-4390 today.