Having served Upstate New York for nearly 35 years, Dr. Paul Sussman and Dr. Meredith Pogal have helped a wide variety of patients attain optimal oral health. This includes providing a wide range of dentistry services for children and entire families in and around Fairport.
To find out how our family dentistry practice can help you, please call the office of Dr. Pogal and Dr. Sussman today at 585-227-4390 for a free consultation. We welcome patients throughout the Rochester area, including Fairport.
Our Family Dentistry Services
Family dentistry emphasizes appropriate, compassionate care for patients at any stage of life, from early childhood to the golden years. To accommodate you and your family, we offer services and amenities such as:
Flexible scheduling – if you're trying to get multiple appointments, we can make it possible for everyone to come at the same time
Comprehensive cleanings and exams
A selection of customizable restorations and tooth replacement options
Emergency dentistry
Orthodontics, including traditional braces and clear alternatives
A comfortable, inviting atmosphere, complete with blankets and refreshments
If you've never visited our office near Fairport before, our dentists are pleased to offer complimentary consultations. Dr. Sussman and Dr. Pogal will take all the time necessary to examine your mouth, discuss health issues and cosmetic imperfections, and begin developing an individual treatment plan that meets your or your family member's needs.
Childhood Dentistry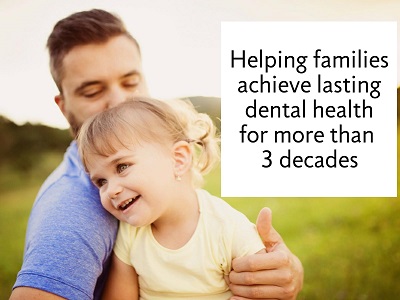 Our family dentists see children as young as 3 years old. By that age, all of your child's teeth should have fully erupted from the gum line.
Kids can be intimidated by visiting the dentist, so it's important to help them get used to the office and what a normal appointment might entail. For that first visit, Dr. Pogal and Dr. Sussman often recommend that children accompany a parent to a routine cleaning.
During this appointment, your child won't undergo any kind of treatment. Instead, he or she will simply watch as members of our dental team clean and inspect your teeth and gums. Acting as an observer will give your child a chance to:
See that visiting the dentist isn't cause for fear or pain
Learn about what happens during a routine visit and ask questions
Form positive feelings about dental treatment
Build a rapport with the dentist and hygienist
The initial appointment is a chance to help your child become comfortable with the dentist and sit in the chair just like mom or dad. Dr. Pogal and Dr. Sussman are proud to help our youngest patients think highly about taking care of their teeth and develop an attitude toward visiting our office that is free from anxiety.
To find out how our Fairport dentists can help your family, please contact the office of Dr. Paul Sussman and Dr. Meredith Pogal or call 585-227-4390 today to schedule your free consultation. Our office provides flexible scheduling and other family-friendly services for patients in communities throughout the Rochester area.