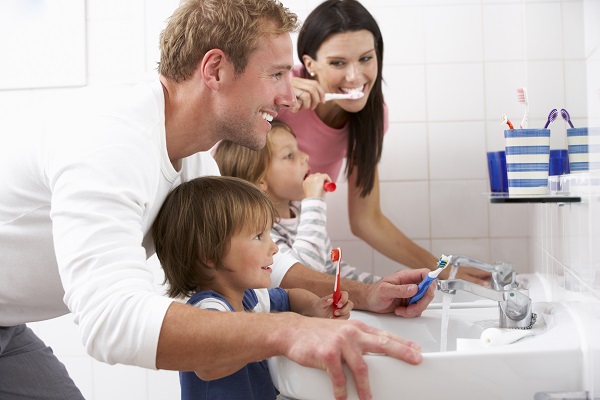 Your family deserves healthy teeth and gums, and beautiful smiles that last a lifetime. Effective routine dentistry achieves those outcomes. The Rochester family dentists at the Center for Cosmetic and General Dentistry have the skill, knowledge and experience to serve as your primary care dentists. Please call us today to learn more about us and to arrange a complimentary consultation: 585-227-4390.
One-Stop Dental Services for the Entire Family
Dental care for every member of your family is provided under one roof when you choose our dentists. We make it easier and more convenient to get everyone the treatments they need, from the youngest family member to the eldest:
Dental sealants and fillings
Teeth brushing and flossing tutorials for kids
Orthodontics for children and adults
Restorative treatments to protect and rebuild teeth
Gum treatments to stop periodontal disease
Teeth replacements for missing or diseased teeth
TMJ relief for problems associated with the jaw joints
Custom mouth guards for adults experiencing sleep apnea
Focusing on several practice areas makes it possible for our dentists to tailor your care. Although the bedrock of oral health is general dental care, we provide specialized services focused in cosmetics and restorations for those patients who want to enhance their smiles.
Dentistry for Kids – Why It's Important
Children can benefit from pediatric dental visits starting at one year old, or within six months of the first tooth eruption. At our practice, our dentists will see patients as young as three years old. These early visits are important for several reasons, including:
Keeping the gums clean and free of infection
Monitoring the appearance and development of teeth
Promoting a healthy oral environment for the eruption of adult teeth later in life
Monitoring the development of the jaws
Your child's baby teeth are vitally important to lifelong dental health. These first teeth help your child develop speech skills, and the ability to bite and chew. The childhood teeth also hold a place as the adult teeth emerge. And baby teeth help stimulate healthy gum and bone tissue. Therefore, it's really important to keep these first teeth clean and healthy.
It's also important for young children to get accustomed to the sounds, sights and smells of a dental office. Although some kids are nervous at first, it can really help to familiarize them with the experience. Our dentists and staff are patient and compassionate with our pediatric patients. We want them to develop a positive view of routine dental care.
Dentistry Throughout Your Adulthood
As an adult, your responsibilities increase and your schedule fills. It can be difficult to squeeze in your routine dental appointments, but it's incredibly important to do so. Routine care helps you keep your teeth healthy and strong for the long haul, which means you may avoid problems like missing teeth and gum disease.
It's also important to feel good about the appearance of your smile. You're more likely to smile without hesitation when you feel confident about it. Smiling like this is important for your emotional health, your ability to interact with colleagues and clients, and your ability to connect with friends and loved ones. As an adult, you may be interested in cosmetic dentistry to enhance your smile. At a minimum, you should get your teeth cleaned every six months, which will be good for the way your teeth look and for your dental health at the same time.
Dentistry in Your Senior Years
At our family dentistry practice, we truly believe that great dental health should be there for you throughout your lifetime, including in your golden years. You may have certain dental health changes as a senior, such as:
Missing teeth
Dry mouth caused by certain medications
Gum disease and gum recession
Discolored teeth
Teeth replacements or prosthetics that aren't meeting your expectations
The experienced dentists at our practice address all of these issues and others, in addition to helping you maintain oral health with routine cleanings and checkups. Our dentists are experienced in caring for patients of all ages, so you can rely on us for customized and effective treatment plans.
Arrange a Visit with Our Family Dentists
If you are searching for an experienced, caring family dentist in the Rochester, New York, region, please contact the practice of Dr. Meredith Pogal and Dr. Paul Sussman at 585-227-4390. We look forward to arranging a complimentary consultation for you. For decades, patients have visited us from across the surrounding areas, including Fairport, Greece and Webster.