The Give Back a Smile program connects survivors of domestic and sexual violence with cosmetic dentists in a powerful way. GBAS was formed by the American Academy of Cosmetic Dentistry and it is restoring smiles for women and men across the country. The mission is to provide donated smile reconstruction services to eligible adults who suffered a dental injury as a result of abuse at the hands of a family member, former intimate partner or former spouse, or as a result of sexual assault.
Meet Rene
Rene is a domestic violence survivor and a strong, beautiful mother to two children. Rene has been living with dental injury and cumulative dental problems for about 10 years. A survivor of abuse by her former spouse, Rene was physically assaulted and suffered a mouth injury as a result. She describes how that original injury led to a chain reaction of dental problems that got worse and worse, until it got to the point that she couldn't keep on top of the necessary dental work.
When Rene first visited us, she was missing several teeth and suffered from various symptoms of temporomandibular joint disorder, also called TMJ. Over the years, she's had to have many teeth pulled. She was ready to reclaim her smile and feel great about her teeth again. Our dentists were so excited and honored to have the opportunity to be a part of her journey and provide her with high-quality restorative dentistry.
With a combination of dental implants and a denture, we are restoring Rene's smile.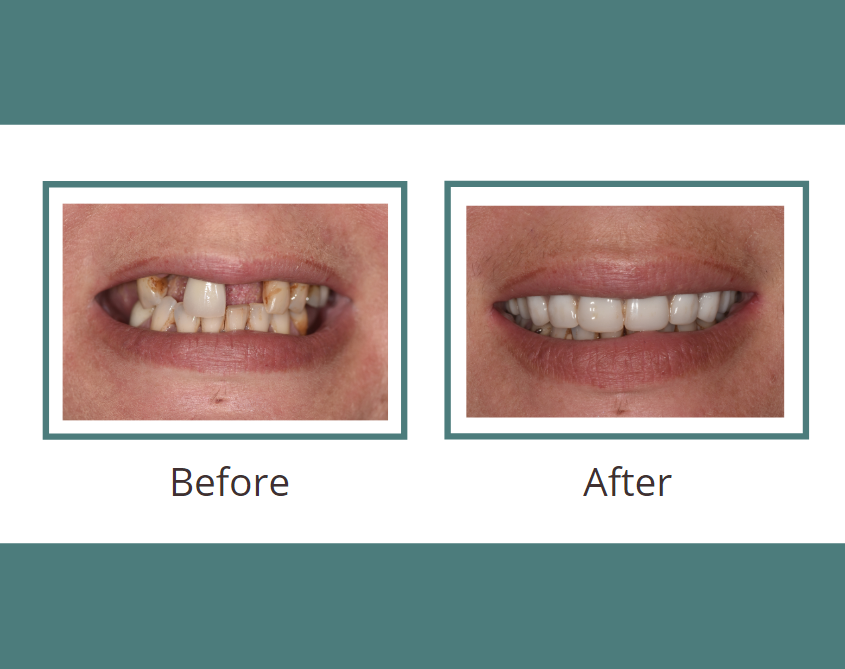 About the AACD's Give Back a Smile Program
The American Academy of Cosmetic Dentistry developed this program so that dentists could get connected with survivors of domestic and sexual abuse nationwide. Abuse causes so many types of injuries, both physical and emotional. The mouth and teeth can be injured, and reconstructive services provide a very meaningful way for dentists to give back and have a positive impact on someone's life.
If you are interested in applying for the AACD's Give Back a Smile program – either as a dentist or as a patient – please visit their website. There are also links to make a donation, bid in a silent auction and connect with the GBAS facebook page. We hope you'll take a moment to check out this life-changing program.