If you're looking for a way to straighten your teeth without using braces, you might be a good candidate for Invisalign®. Rochester dentists Dr. Meredith Pogal and Dr. Paul Sussman often recommend this discreet orthodontic solution to correct multiple aesthetic issues affecting our patients' smiles.
If you'd like to learn more about Invisalign®, please call Drs. Sussman and Pogal today at 585-227-4390 to book an appointment at our Rochester office.
What Is Invisalign®?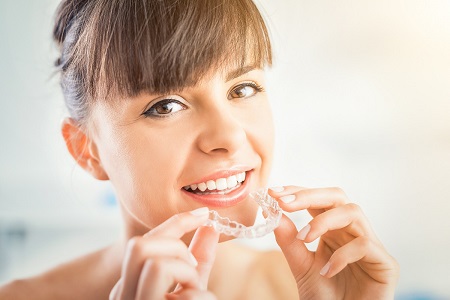 Invisalign® is a clear, removable orthodontic appliance. Like braces, it gradually shifts the position of your teeth into an alignment that looks and feels great. However, where braces are bonded to teeth and often require wires, brackets, rubber bands, and other bulky components, this alternative uses a simple aligner tray made from BPA-free plastic.
During Invisalign® treatment you will wear an aligner tray for two weeks at a time. Each aligner will be customized by our dentists to fit your teeth. You will need to wear the aligner for approximately 20 hours each day and take it out for activities like:
Eating
Brushing and flossing your teeth
Playing sports or a musical instrument
Every six weeks we will ask you to return to our office in Rochester to pick up your next set of aligners, which represents the next step in your custom orthodontic treatment. Dr. Pogal and Dr. Sussman will evaluate the progress of your teeth and bite at these appointments.
Invisalign® Advantages
Every step of Invisalign® treatment is customized to meet your needs. During your initial evaluation, our dentists can model on a computer screen how you can expect your teeth to move over time and how this gradual alignment will improve your smile.
The aligners are designed to be practically invisible, but this isn't the only benefit of Invisalign® over conventional braces. Other advantages include:
Smooth plastic is comfortable for teeth and gums
Take the aligner out when you want
No restrictions on foods you can eat or activities you can do
Teeth are easier to brush and floss – no special instruments necessary
Fewer office visits than braces usually requires
Not only will you look better undergoing orthodontic treatment with Invisalign® instead of braces, you'll also feel better about your appearance. "Metal mouth" isn't an issue, so many patients feel more confident in social and professional settings than they would with braces.
If you're interested in Invisalign®, please contact the office of Dr. Paul Sussman and Dr. Meredith Pogal or call 585-227-4390 today for a free consultation. We welcome patients from Rochester, Greece, Brighton, and other communities in Upstate New York.