test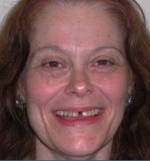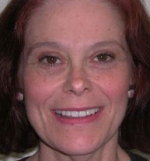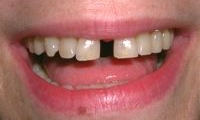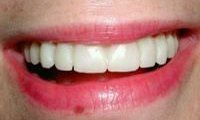 Click here to return to Gallery
Mary hated the large gap between her two front teeth. She felt very self conscious and actually hated to smile. Although she had consulted with a number of dentists over the years... she was basically told by different doctors that the gap was too large for certain types of procedures.
She was even told at one time to leave it alone since "it is a part of your personality" which Mary was unwilling to accept.
When Mary presented herself in our office, her goal was to develop a treatment plan that would incorporate certain budgetary restraints yet enable her to obtain the cosmetic result she was seeking.
 Our first step was to use Zoom! Teeth Whitening to achieve the degree of whiteness that Mary wanted for her overall smile.
To assure the minimization of errors and to give Mary the opportunity for having a degree of input for redeveloping her new smile, Dr. Sussman developed wax models that incorporated the re-proportioning of her individual teeth that produced the most natural appearance.
 
Eliminating Porcelain Veneer Errors
Temporaries were then made which Mary was able to wear and to provide the experience of what was yet to come. A set of 6 handcrafted Empress Porcelain Veneers were created, based on the specifications used in developing the final wax model and temporaries.
 The cosmetic result is astounding, as can be seen in this photo. Mary was very pleased with her veneer treatment result and has admitted to us that she now enjoys every opportunity to smile at everyone she meets... to show off her beautiful new smile.
Mary wrote a lengthy letter to us after her treatment. Her letter can be read here.
Contact Dr. Sussman or Dr. Pogal for arranging a consultation to determine what your options are for restorative and/or reconstructive dentistry. Get the information you need for making an informed decision.