The loss of just one tooth can radically alter your appearance. If you have gaps in your smile or you're dissatisfied with the appearance of your teeth, Greece dentists Dr. Paul Sussman and Dr. Meredith Pogal offer a variety of metal-free, tooth-colored repair and replacement options.
For a free consultation to determine what tooth repair or replacement option works for you, please call the office of Drs. Sussman and Pogal today at 585-227-4390. We welcome patients from Greece, NY, and other communities Upstate.
Restorative Dentistry Options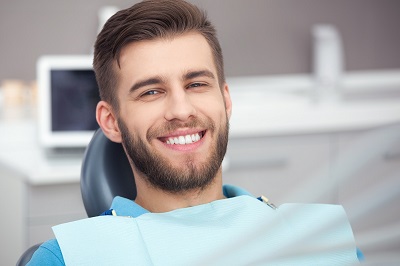 Many patients chip, crack, or break a tooth from some kind of trauma. This could include biting down on a hard object or getting hit in the face during sports or other activities. Regardless of the cause, damaging or losing a tooth should always be treated as an emergency.
When you're ready to repair the tooth, our dentists will evaluate your mouth to identify which restoration will look and feel the best. Our tooth repair options include:
Tooth-colored fillings
Dental inlays and onlays
Dental bridges
In the past, dentures used to be the only option for patients who were missing one or more teeth. Now dental implants are the premier option for replacing lost teeth – the only option, in fact, for comprehensively filling the space left by a missing tooth above and below the gum line.
Benefits of Tooth Repair and Replacement
Lost or broken teeth aren't just a cosmetic defect. In some cases, damage to a tooth can also lead to health problems even after the initial injury has healed. Repairing or replacing a tooth can prevent serious issues such as:
Loss of strength and function
Disturbances to the bite
Tooth sensitivity
Bacteria proliferation on irregular tooth surfaces
Lost jaw bone density
Unstable position of teeth within the mouth
Our dentists recognize that patients who are unhappy with their teeth don't want a shiny metallic restoration marring their smile. In the vast majority of cases, we are able to offer patients metal-free restorations like porcelain crowns and fillings made from sturdy ceramic.
Porcelain restorations are often as strong as their metal counterparts. They can also be crafted not only to look like real teeth but also feel like a natural part of your smile.
To learn about comfortable, customizable options for repairing and replacing teeth, please contact the office of Dr. Paul Sussman and Dr. Meredith Pogal or call 585-227-4390 to schedule your free consultation. Our dentists serve patients throughout Upstate New York, including Greece, Fairport, Webster, Brockport, and other communities.