Dental crowns, veneers, and onlays crafted from CEREC porcelain offer many discriminating patients the opportunity to obtain tooth replacement dentistry in as little as one day.

The magic of the Cerec AutoCad based porcelain block milling apparatus enable Dr. Pogal and Dr. Sussman to custom fabricate needed porcelain restorative and reconstructive dental components in the office.
Tooth and dental crown replacements are now possible in as little as one day -- and even one hour. For more information on our advanced solutions for tooth repair, please call Dr. Sussman and Dr. Pogal at 585-227-4390 today. Free consultations are available for patients in Fairport, Brighton, and other areas of Upstate New York.
Porcelain restoration and reconstuction components created with the Cerec technology are available for inlays, onlays, premium porcelain veneers, partial and complete crowns.
Our Cerec equipment also assure our Rochester patients that when errors occur, there is no extensive waiting and rescheduling return visits. Corrections are made immediately.
Cerec Porcelain Fillings - Premium Amalgam Replacement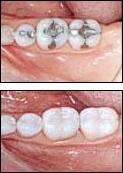 Dr. Sussman and Dr. Pogal provide our patients treatment options that include Cerec custom porcelain fillings (onlays - inlays) that represent the treatment standard for replacing older, aging silver, mercury and resin based materials. Color shading is precisely controlled to achieve a perfect match to the color of existing tooth structures.
Outdated filling materials that are typically at risk for leakage and hidden decay (see adjacent photo) can be effortly replaced with custom porcelain (not resin based) material created that not only matches the color characteristics of the existing tooth structure but can also rebuild the physical properties of the cusps and biting surfaces (many large fillings distort posterior biting surfaces).
Cerec custom fillings enable talented dentists to literally recreate the strength, beauty and function of important posterior tooth structures that Mother Nature typically provides.
Drinking or eating hot and cold foods that typically produce severe pain sensations with metal fillings is virtually eliminated. Cerec ceramic materials expand and contract at nearly the same rate as the original tooth.
Cerec Crowns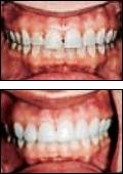 Porcelain crowns created with Cerec technology eliminates popular problems of porcelain to metal fused crowns. Cerec porcelain crowns are pure ceramic components that promise the best in optimal restoration of dental cosmetics and reconstructive function.
Porcelain Makeover Dentistry
The precision technology of Cerec porcelain fabrication methods, combined with the creative dental makeover skills of Dr. Pogal and Dr. Sussman, enable patients to achieve cosmetic and functional makeover results that can be quite astounding.
Full mouth makeovers, including cosmetic and reconstructive, require absolute precision in the fabrication process of different restorative components to prevent the appearance of mismatched tooth structures. Ceramic veneers, crowns, fillings and filling replacements incorporated into a typical full mouth makeover share identical properties and shading characteristics.
For the patient, the concern over whether crowns, porcelain veneers and existing teeth will be color matched is virtually eliminated. Cerec porcelain is also resistant to dental plaque.
Cerec In Office Rochester Porcelain Dental Lab
Contact Dr. Sussman, Dr. Pogal, or our Dental Team at 585-227-4390 today to arrange a consult to determine how custom Cerec in-office porcelain tooth replacement (crowns) materials, onlays, and inlays can provide the level of treatment you are seeking without extensive waiting periods or repeat appointments. Our dentists serve patients throughout the Rochester area, including Fairport, Brighton, Greece, and other communities.