With today's modern dental technology, you may be able to receive one day dental implants. Under certain circumstances, a dental implant can be placed right away, and a temporary restoration is used so that you don't have to sport a toothless look while the bone heals. To learn more about your dental implant options, please call the office of Dr. Sussman and Dr. Pogal at 585-227-4390 today for a free consultation. Our dentists serve patients throughout the Rochester area, including Fairport, Brighton, Greece, and other nearby communities.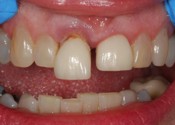 One day dental implants are now used in various combinations that enable our patients to undergo one or more extractions yet still leave the office without the toothless look.
One tooth or an entire arch of teeth can be replaced within one treatment session for most patients.
Supereruption Treatment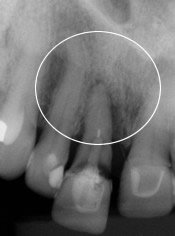 The adjacent picture above depicts what can happen when idiopathic gum disease and bad occlusion affecting a central incisor can cause a tooth to erupt too far, or seemingly grow out of the jaw.
Treated early enough where bone loss that is normally associated with supererupted teeth is prevented, a dental implant is inserted into the extraction socket within minutes of the final removal of the affected tooth.
Supplemental bone graft product can be added as needed along with a specialized GTR (Guided Tissue Regeneration membrane) to facilitate the osseointegration of the implant and overall regrowth of healthy hard and soft tissue (bone and gingiva).
Special Implants for Unique Treatment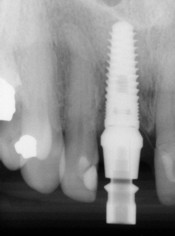 The post placement xray clearly shows the alignment and positioning of the new implant device.
Once seated and torqued to specifications, a healing cap is placed so a cosmetic flipper prosthetic can be placed to provide a suitable cosmetic result while protecting the implant site and soft tissues around the new implant.
Osseointegration that is usually completed in about 3 to 4 months will complete the process of creating new bone material that completely embeds the implant into the patient's jawbone. The gingiva tissue will also regenerate.
Other, older, traditional implant designs often required all bone regeneration to be completed before the placement of implants.
Thanks to computerized engineering (CAD/CAM) and modern 3D Imaging, improved implant design continues to emerge, enabling reconstructive dentists to create timely treatments that achieve some of the highest rates of implant success on record.
The top view pictured here is a mirrored image reflecting the patient's upper jaw (maxilla).
Notice how the placement and healing cap are equidistant from the adjacent teeth.
The final porcelain crown that will eventually be custom fabricated can be expected to have symmetry values that represent a natural tooth.
The overall sizing appearance will be identical to the other central incisor, further promoting the existence of a natural appearing tooth that matches in color, shading and incisal edge formation.
Temporary Restoration Choices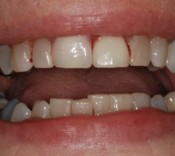 Most of our implant dentistry patients have a choice between flipper devices and acrylic based temporary crowns (or bridgework, when indicated).
In most instances, an immediate function implant that is loaded with a temporary crown is kept "out of occlusion" (placed a little lower than adjacent teeth) to protect the implant and facilitate optimal tissue regeneration.
After osseointegration has been completed (3-4 months) a permanent crown (porcelain or PFM) is fabricated and placed into the occlusal plane at the correct height.
In situations where a risk still exists for an implant site to be subject to biting forces (front teeth bite into nearly everything), a flipper device provides the greatest assurance all healing progresses without incident or injury to sensitive tissue regeneration.
Questions?
For additional information about the treatment possibilities of dental implants, please contact our dentists directly or call Dr. Sussman and Dr. Pogal today at 585-227-4390 to schedule a complimentary private consultation at our office near Fairport in Upstate New York.