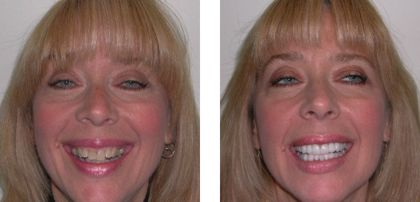 Click here to return to Gallery
Meet Kim....when she first came to our Rochester office... she pretty much knew what she wanted. There were cosmetic and structural issues with her teeth that she wanted to take care of once and for all.
Simply stated... Kim wanted a complete smile makeover.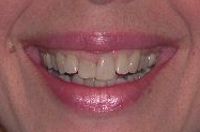 A very outgoing and sociable person, Kim said she had been embarrassed for a long time about her teeth. Severe discolorations, uneven gingival tissues, nonsymmetrical tooth sizes and some alignment problems were issues at the top of her makeover list.
Kim's desire was to have a smile that matched her personality.... outgoing.
To find out how a smile makeover can transform your appearance, please call Dr. Sussman and Dr. Pogal in Rochester today at 585-227-4390 for a free consultation.
Makeover Choices
Kim and our doctors reviewed a good number of successful treatment plan strategies used by many of our patients that treated the same issues that she had.
Kim was presented with several choices of plans that would produce the cosmetic result she was seeking, each with varying degrees of cosmetic and functional impact.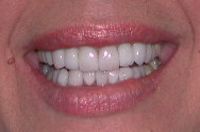 After completing basic articulation studies with the diagnostic impressions, Kim and Dr. Sussman were able to determine that multiple units of high grade Empress crowns and custom fabricated porcelain veneers would produce the cosmetic and functional results she wanted.
Harmony between the functional and cosmetic aspects of Kim's dental treatments were maintained throughout.
Functional - Cosmetic Monitoring yields No Surprises Dentistry
The use of diagnostic and analysis tools by Dr. Sussman assured that all of the things we take for granted regarding normal bite and occlusal relationships would be normalized.
Kim wanted no surprises about something not feeling or looking right. Her involvement using the diagnostic wax up models provided the opportunities for input she wanted to have for herself.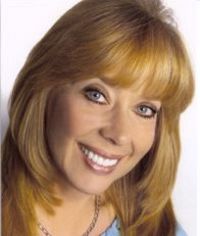 A total of 20 Empress ceramic restoration components were used to rebuild Kim's new smile. Excess gingival tissues were trimmed with the Waterlase Laser, one of the most popular laser technologies used for creating gingival frameworks for teeth that mimic Mother Nature herself.
Our post treatment photos show the degree of change that Kim wanted for her smile. Symmetry, coloration, shading, positioning and alignment were achieved just the way she wanted it.
Kim now feels she now has the smile that matches her personality (bubbly, as we know her in this office) and who she is.
Contact Dr. Sussman and Dr. Pogal online or call 585-227-4390 today to arrange a free smile makeover consultation. Get the information you need about restorative and reconstructive dentistry options so you can make an informed decision.