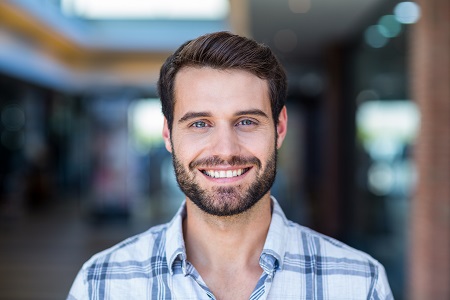 At our Greece dentistry practice, repairing and protecting individual teeth is a critical part of helping patients overcome oral health issues and feel better about their smiles. If you're in pain from a damaged tooth or you're dissatisfied with the way a tooth looks, Dr. Sussman and Dr. Pogal can provide you with a custom dental crown.
Dental crowns can address a variety of general and cosmetic issues. Please call 585-227-4390 today to schedule an appointment. Our dentists welcome patients throughout the Greece area of Upstate New York.
When Do I Need a Dental Crown?
A crown covers the entirety of a tooth's surface, restoring strength and adjusting the appearance. Crowns can repair damage from tooth decay or injury, as well as enhance the aesthetic of the tooth.
Dental crowns might be a suitable solution for teeth that are:
Worn

Cracked

Broken

Extremely stained

Oddly shaped
Crowns are also often used to support other restorations. If a tooth has been filled and little natural structure remains, a crown can help provide stability. A crown is bonded on each end of a dental bridge to anchor the restoration to surrounding natural teeth, and crowns are commonly the finishing touch for patients who have replaced a missing tooth using dental implants.
Benefits of a Dental Crown
Our Greece dentists know that patients who restore the health of a tooth also want the tooth to look like new, too. For this reason, our dental team is pleased to provide all-porcelain crowns for the vast majority of cases involving tooth repair.
Porcelain dental restorations have a number of advantages over old-fashioned metal designs, including:
Lifelike look

Functional strength

Comfortable design

Durability – porcelain crowns can last 10 years or more

Natural results – the color of the porcelain is matched to the natural shade of your smile

Easy maintenance – good oral hygiene should keep the crown intact
Each crown is customized to fit the size, shape, and structure of the underlying tooth. Our dentists will take an impression of your teeth so the lab can fabricate a crown that meets your individual needs. When the crown returns from the lab, Dr. Sussman and Dr. Pogal will see how it fits and adjust the porcelain as needed so your tooth is properly covered and the restoration doesn't interfere with surrounding teeth.
For more information about dental crowns and other restoration options available at our Greece dentistry office, please call 585-227-4390 today to arrange a complimentary consultation. Dr. Pogal and Dr. Sussman serve patients throughout the Rochester area, including Brockport, Brighton, Hilton, Fairport, and other communities.