test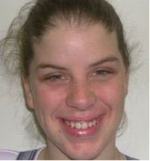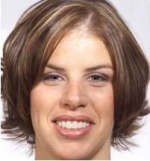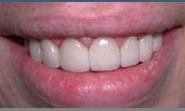 Click here to return to Gallery
Meet Amy. She was a local Rochester winner of the famous ABC television program and underwent a variety of makeover services to achieve a cosmetic outcome she had always dreamed of.
Amy had always hated her smile and was embarrassed to smile "too widely" and would often cover her mouth. She was missing one tooth which caused the midline of her smile to be a little off-center. Amy felt her smile was far too gummy and wanted to have a smile that "fit" her mouth... with just the right balance.
Part of Amy's preparatory treatments included a complete periodontal exam. Dr. Sussman used the Florida Probe to assess her overall gum structure and provided root planing services where indicated to achieve the heathiest gum structure possible. The BioLase WaterLase laser was used for treating, shaping and re-contouring Amy's overall gum structure, establishing a harmonious gum line that would accent her new smile.
Zoom! Teeth Whitening was performed to achieve the degree of whiteness Amy desired for all of her teeth. Custom made Empress porcelain veneers were then designed and color matched to her existing teeth. Dr. Sussman created sets of "temporaries" that allowed the patient to visualize the cosmetic result before the final veneers were made.
The adjacent photo shows our patient with a trial fitting of Dr. Sussman's "temporary veneer sets" that enabled Amy to visualize what the eventual cosmetic result would be. The use of temporaries... a time consuming step, eliminates the "surprises" (the negative kind) that many patients have with veneer dentistry and eventually results in dissatisfaction with treatment.
Amy was quite impressed with the results of the final adjustment of the temporary veneers and elected to decline additional treatments that would shift the midline of her smile. A total of 9 Empress veneers were placed.
As can be seen in these photos, the gum shaping performed by Dr. Sussman has a very dramatic effect for Amy's new smile. The gumline is symmetrical, balanced and produces a natural harmony that quite literally...puts the "final touch" on makeover dental procedures, that is possible only through the use of laser technologies.
Contact Dr. Sussman or Dr. Pogal for arranging a consultation to determine what your options are for restorative and/or reconstructive dentistry. Get the information you need for making an informed decision.