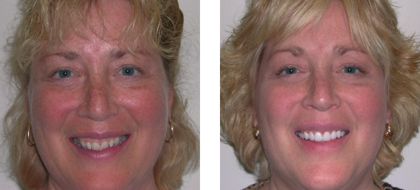 Click here to return to Gallery
Empress Porcelain Veneer Treatment
Meet Judy...when she first presented in our office she complained that she wanted to change the gummy smile appearance she had. She also had teeth showing signs of uneven wear that she wanted to correct so her teeth could have a more uniform appearance.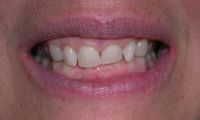 In our first pre-treatment closeup photo, the extent of the excess gum tissue can be seen on several tooth structures and especially on the mandible (lower jaw).
The gummy look was so extensive that it many instances her smile gave the appearance of having no back teeth. Judy was conscious of this and it affected her ability to smile spontaneously in some social settings.
If you're embarrassed about your smile, please call Dr. Pogal and Dr. Sussman today at 585-227-4390 for a free consultation. Our cosmetic dentists serve patients in multiple areas of Upstate New York, including Fairport, Brighton, Greece, and Rochester.
Overall, her teeth and gingival tissues were quite healthy. Judy had good oral health habits and had no hidden functional or structual problems with her dentition.
Our doctors were able to determine that certain laser treatments could be used to treat the gummy tissue problem on certain tooth structures. Hand crafted porcelain veneers were recommended to resize and reshape tooth structures that would produce the broad smile our patient wanted. She especially wanted the natural feeling of having a smile with teeth that particularly fit her facial features and most importantly, looked natural.
Laser Crown Lengthening
The Waterlase Laser was used on a tooth by tooth basis to perform osseous crown lengthening that removed portions of bone material and gum tissue, thereby exposing more of each tooth structure.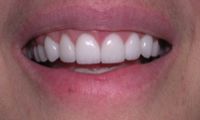 The crown lengthening and trimming of the gingival tissues was monitored closely to assure a perfect match for each new veneer that was to be placed, on a tooth by tooth basis.
Diagnostic Wax Up Modeling
Coupled with diagnostic wax up modeling and temporary veneers, these extra steps would create a final cosmetic result providing the harmony and symmetrical balance of gum tissue wanted by the patient, to each and every tooth structure, across the entire arch.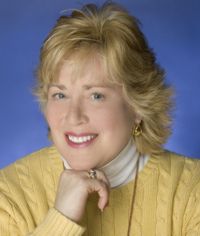 The adjacent postop closeup photo shows the cosmetic result the patient wanted. Her smile is broader and fills out her smile more.
Notice how the gum tissue framing each tooth is symmetrical and very natural appearing.
Smile Line Design
She also has a new Smile Line (contour of the biting edges of the top teeth follow the contour of the lips when smiling) that she really never had before.
Judy was thrilled with the outcome. She no longer hesitates to smile as broadly as she wants, regardless of the social setting.
Our last post treatment photo, taken several weeks after completion of treatment readily shows a "new" Judy. Successful makeover dentistry can impact patients in a variety of ways that are very long lasting.
To find out how our cosmetic dentists can help you enjoy a rejuvenated smile that enhances your appearance, please call Dr. Sussman and Dr. Pogal today at 585-227-4390 for a free aesthetic consultation. We are pleased to see patients from Fairport and other Upstate New York communities near Rochester.