Posted: September 12, 2018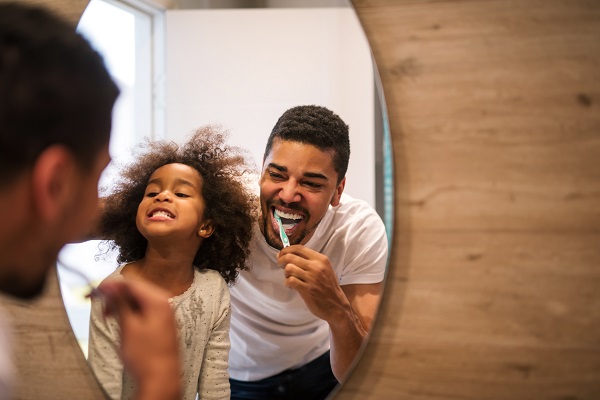 Healthy teeth and gums are the foundation of a gorgeous smile. Oral health starts with your at-home hygiene routine, and is supported and maintained by our skilled hygienists. To learn more, and to arrange your next cleaning and checkup in Rochester, New York, please call the practice of Dr. Meredith Pogal and Dr. Paul Sussman at 585-227-4390.
We all know that cleaning your teeth in the morning and again at night is important. Below, we outline some tips and specifics for those routines.
When You Wake Up
While you sleep, your saliva production slows, and your mouth can get dry. This environment gives bacteria an opportunity to flourish on your teeth and the surfaces of your mouth. It is these bacteria which cause cavities by producing an acid as they break down food and beverages on your teeth. Brushing disrupts the film on your teeth that contains these bacteria. That film is known as dental plaque.
So, it is very important to brush when you wake up. If you choose to brush after eating breakfast, you should wait about 20-30 minutes after your meal. In that time, your enamel is a little softer and more vulnerable to the abrasiveness of toothbrush bristles. Your enamel is softer because of the acidic components of food and drinks, especially orange juice and fruit. But the enamel will re-harden in the half hour or so afterward.
Brushing after Lunch?
Some people choose to brush three times a day, which is perfectly fine. It can freshen your breath and brush away cavity-causing food debris. After breakfast, try to wait about 30 minutes before cleaning your teeth. If you are brushing this often, be extra careful to use light pressure. You don't want to overdo it and scrub your teeth, which wears your enamel. Use feather-light pressure that is more like massaging your teeth than scrubbing them.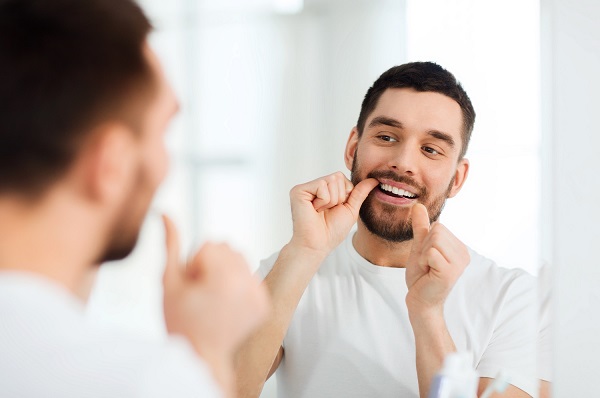 Before You Go To Bed
Brush and floss before going to sleep. This breaks up the filmy buildup of food, saliva and bacteria that has formed on your teeth from lunch and dinner. It also bathes the teeth in cavity-fighting fluoride.
Brushing and flossing should be the very last thing you do. Don't clean your teeth if there is a chance you'll have a snack or a non-water beverage before bed.
The Importance of Visiting the Dentist
No dental hygiene routine is complete without regular visits to the dentist. For most people, these visits should happen every 6 months. During these appointments, our hygienists will clean your teeth, including polishing and flossing. We take x-rays once a year so that we can see any cavities or other problems that are developing. Our dentists perform an exam of your teeth and gums to look for signs of any dental problems.
It's important to go to these appointments regularly to prevent dental problems. Prevention saves you time, money and hassle in the long run when compared to treating advanced dental conditions.
Schedule Your Next Cleaning in Rochester
Ready to schedule an appointment with our dentists? We proudly provide dentistry to patients from throughout our region of New York, including Webster, Greece and Fairport. Our experienced and gentle dentists provide a one-stop shop of preventive, restorative and cosmetic dental services to serve your needs. To arrange your next checkup, please call our team at 585-227-4390.