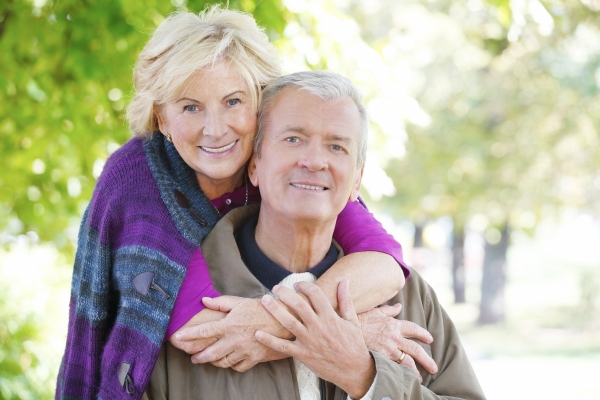 Rochester and Greece-area residents hoping to replace missing teeth have a number of options at the Center for Cosmetic & General Dentistry. Dental implants, for example, are ideal for replacing a small number of missing teeth while also helping prevent the unwanted dental complications associated with tooth loss.
However, if you are missing an entire row of teeth, dentures may be a more appropriate solution. For many patients, a combination of the two procedures is the best option. A consultation with one of our experienced dentists can determine if you are a good candidate for implant-supported dentures.
Essentially, a dental implant is just an artificial tooth replacement. A small metal post is placed in the jawbone to support the custom restoration material attached, such as a dental crown or bridge mechanism. The implant can also be used to support a full denture.
This provides the patient with several advantages to traditional dentures that rely on adhesives to stay in place. These advantages include:
A better fit for a longer period of time
Reduced bone loss and jaw reduction
Increased stability
Stronger support
Keep in mind that dental implants are not right for every one. Our dentists will fully assess your unique situation and discuss your options with you.
If you live in Rochester or Greece and would like to learn more about dentures, please contact us today online or at 585-227-4390.