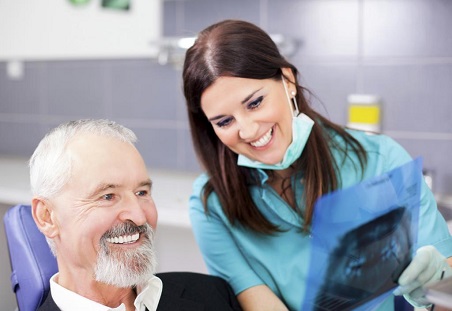 Once your dental implants have healed, you'll be able to fully enjoy the benefits of these outstanding tooth replacements. Chewing, speaking and smiling will feel as comfortable and natural as before you lost teeth. Caring for your dental implants long-term is also easy, as long as you practice proper dental hygiene.
The following are care tips for your dental implants:
Brush at least twice a day. There is no need to brush more often with dental implants, or to use a different type of toothbrush than you do normally.
Don't neglect the dental implant when brushing and flossing. It's true the porcelain restoration atop the dental implant cannot decay. But the gum tissue and surrounding teeth can become infected and decayed. You must reduce plaque and food debris on all of your teeth, including on the dental implants, in order to maintain a healthy oral cavity.
Visit the dentist for your routine appointments. Our experienced dentists will help you maintain your dental implants for the long-term. With regular dental cleanings and exams, we ensure the cleanliness of the restoration and check for signs of any problems.
Dr. Paul Sussman and Dr. Meredith Pogal are dedicated to the lasting dental wellness of each of their guests. If you are interested in dental implants, we will fill you in on all of the details. We want you to know what to expect from the treatment process as well as the long-term performance of these restorations. Our dentists will also determine if you are a good candidate for any other type of tooth replacement, so that you get the full picture of your options.
To schedule a consultation in Rochester, NY, please call 585-227-4390, or contact us by completing the form on this page.