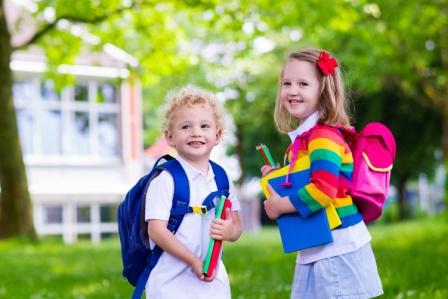 Back to school is a hectic time. Many parents are racing to schedule appointments with the dentist before the first day, while for others the next visit will be here before they know it.
For young patients with developing teeth, dutiful dental hygiene and prevention of problems are the best way to start the school year. Our dentists suggest the following tips to help your children maintain a healthy mouth.
To schedule your family's next appointment or to learn more about our general dentistry services, please call the Center for Cosmetic & General Dentistry at 585-227-4390 today. Dr. Sussman, Dr. Pogal, and our entire dental team serve patients in and around Rochester, Greece, Webster, Fairport, and nearby areas of New York.
Pack Healthy Snacks
Bringing an apple for teacher on the first day of school has fallen out of fashion, but don't hesitate to pack them for your young student. Good choices include:
Apples, bananas, grapes, orange slices, and other fruits
Carrots
Celery
Baked snack crackers
Nuts
Raisins
Yogurt
Low-fat cheese snacks
The key with any snack is to avoid products with lots of sugar. Even seemingly healthy foods and drinks will negatively impact your child's teeth if they are rich in sugar. When you're shopping, be sure to check the label, as many brands try to hide the sugar content of their products.
If your child has braces, modify your choices accordingly. Instead of a whole apple, opt for apple slices. Select carrot sticks or baby carrots instead of large chunks. And, instead of raisins, go for fresh grapes. Modifying nutrious snack choices will keep your child's braces free from damage.
Invest in a Mouthguard
A mouthguard is a must if your child is involved in afterschool sports. Football, basketball, and other activities all carry a risk of injury to the teeth and gums. But, you can avoid an emergency appointment by getting your child fitted with the right equipment.
Mouthguards are available at most sporting goods stores, but these are one-size-fits-all. The better option is to visit the dentist and get an athletic mouthguard that is precisely fabricated to your child's teeth.
Maintain Scheduled Brushing & Flossing
If you have established a routine for morning and nighttime to make sure your child brushes his or her teeth, be sure to keep the schedule in place once school starts. Structure is key to help kids become responsible for their own dental hygiene. As you help them become more independent, regularly check their teeth and gums, especially when they lose a tooth.
You can also teach your children to take steps toward good dental health while they are at school. Rinsing with water from the drinking fountain is a quick and easy way to wash away the bacteria that cause cavities.
Schedule Your Appointment with Dr. Sussman and Dr. Pogal Today
The Center for Cosmetic & General Dentistry has been serving patients for over 35 years. Our family dentistry services include flexible scheduling that accommodates adults and kids during a single office visit.
Call 585-227-4390 to schedule a dental appointment for you and/or your child today. Our dentists serve patients in and around Rochester, Greece, Fairport, Webster, and nearby areas of New York.