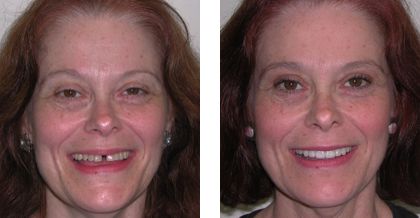 Click here to return to Gallery
Dear Dr. Sussman:
Do you know how wonderful you are? I am sure you've been told before, but you certainly deserve to hear it again. I have had at least five dentists in my life but never a dentist of your caliber.
You have state-of-the-art dental equipment, you keep current in your field as evidenced by your numerous diplomas and certificates, and your entire staff is the cream of the crop! I am so pleased with the work you and your great staff have done on my teeth. And I am thrilled with the outcome of your skill and artistry.
When I decided to explore the options of closing the large gap in my front teeth, I really didn't know where to start. I had been told by my previous dentist that it would be difficult to close my gap due to its size. I remember he told me "it's part of your personality." Six years later, I still had not accepted that my large gap was "part of my personality." To the contrary, I was extremely self~conscious and resisted smiling. Once I decided the gap had to go, I knew I wanted to find someone who specialized in cosmetic dentistry.
I called you because I had heard that you were a very skilled and prominent cosmetic dentist. When I called to make an appointment, I was pleased to find that you offered a free initial consultation. When I came in for my consultation, both you and Julie thoroughly answered my questions. Although I was unable to afford having all of my teeth done in porcelain veneers at one time, Katie and James were so helpful in discussing my options.
When I later discussed my concerns with you, you were kind and understanding; thus making my decision to go ahead an easy one. Although, I decided to start with having six done, I look forward to doing more in the future. It was refreshing to find that you really listened to me, not just as a courtesy, but to really understand my concerns and expectations.
At my follow up appointment~ you told me your approach for obtaining the best results. Your plan included taking care of my gums and undergoing the Zoom whitening process prior to proceeding with the veneers. When the day came for the first step in closing my gap, the temporaries you created for me were almost as beautiful as the custom work you prescribed to the lab for the porcelain veneers.
When I came in for the veneers, you and Carla worked so methodically while I closed my eyes and listened to the soothing music playing in the background. I was barely aware of being in a dentist chair and aside from the obligatory Novocain shots, the procedure was painless. The color of my veneers is compatible with the color of my other teeth and my new smile is considerably brighter and healthier now.
My confidence level is over the top! It's only been a month and I have received so many compliments from family, friends and even strangers. I still can't believe what I see when I look in the mirror and smile; I am in awe of your talents!
In addition to your unparalleled artistry as a cosmetic dentist, I would also like to comment on your overall dentistry skills and character. Prior to my cosmetic procedure, I scheduled an appointment with you to replace an old filling and fill a small cavity. Due to past painful dental experiences, I was afraid and not looking forward to the fillings. However, the day you did my fillings, was the day I learned how gentle and caring you really were. You knew I was afraid and you asked me more than once if I felt any pain; I didn't.
Your skillful hands and your sensitivity to my feelings have alleviated my fear of dentists. In addition, the new tooth colored fillings you used are not only safe, they are aesthetic and virtually impossible to detect. I used to avoid smiling due to the embarrassment I felt over my gap. Now, I want to smile at everyone I see just to show off my beautiful new teeth! Thank you, Dr. Sussman, and your wonderful staff for putting a huge smile on my face.
The whole process has been a positive experience with no pain and fantastic results.
Respectfully, and with much gratitude, Mary Elizabeth Healy